About the Book
Entrepreneurship can be an incredibly challenging journey, but it also has the potential to be the best decision you ever make. In my new book, "Success Uncharted", I share my personal journey of almost a decade; from starting out as a Medical Laboratory Scientist to becoming a makeup artist/retailer on the side and ultimately leaving a stable 9-to-5 job.

"Success Uncharted" is not just a typical book on entrepreneurship. It's a collection of invaluable lessons I learned while building my business, Nuban Beauty. With every page, you'll gain insights that will ignite your entrepreneurial spirit and fuel your journey towards making a lasting impact.

Whether you're an aspiring entrepreneur or a seasoned business owner, this book will give you the tools you need to tackle challenges, overcome obstacles and create a business that aligns with your values and goals.

Join me on this journey of self-discovery and professional growth, and discover what it takes to chart your own path to success.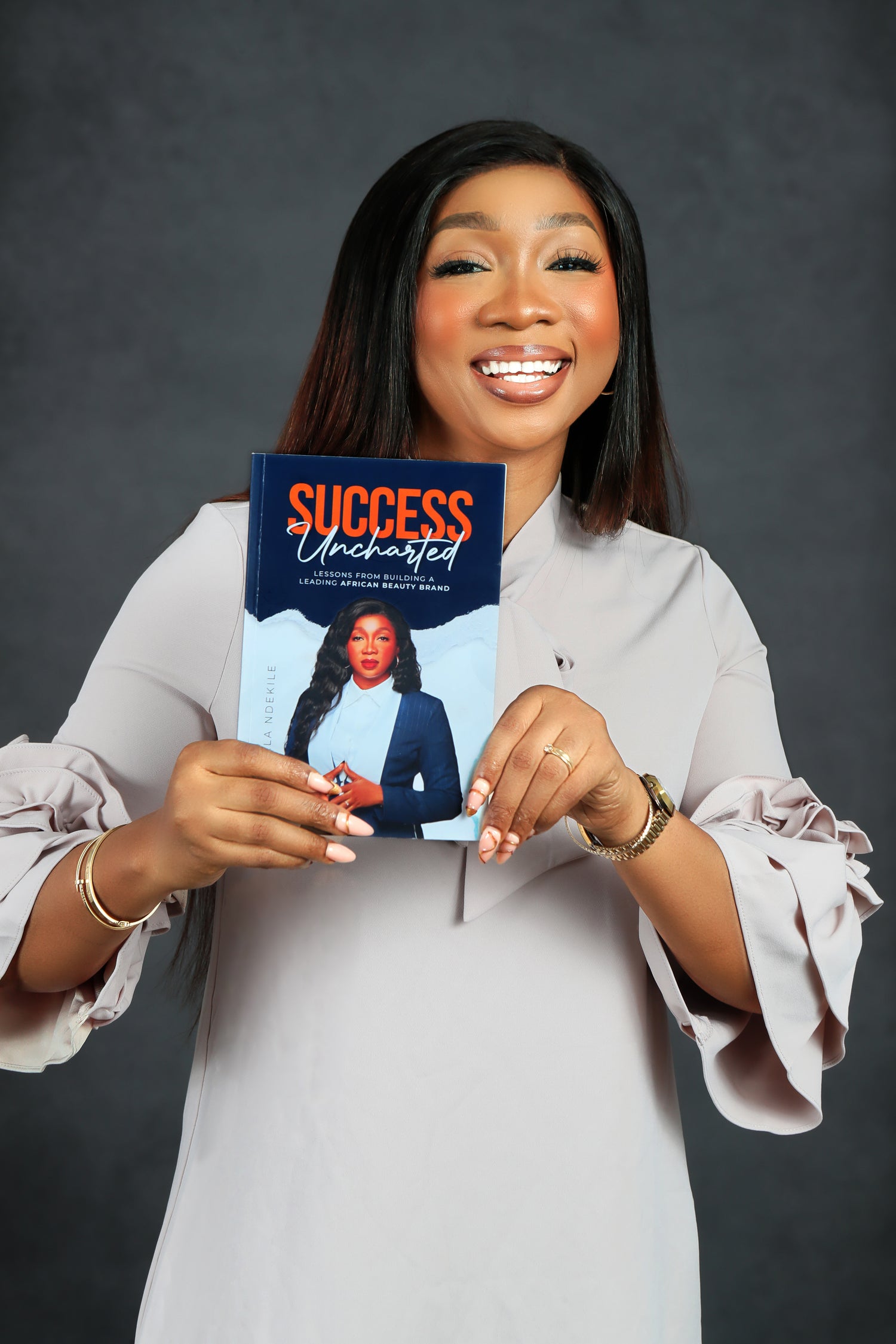 Don't miss out on the opportunity to learn from the remarkable journey of building Nuban Beauty. Be one of the first to read "Success Uncharted" and gain insights into how to build a very successful business that aligns with your values and goals.
Grab A Copy Now!
Testimonials
Dolapo Sanusi-Ola Founder, NestAgri

I had the privilege of reviewing and reading "Success Uncharted"
before it went to print and I was so excited reading it but, also had
a deep rooted respect for how Nuban Beauty became a successful
brand.
The book gives a no bars hold on a step to step on how to build
a successful business and it's not a daunting read as it is told as
a story. It teaches a budding entrepreneur that you need to be
resilient, patient, focused, adaptable, teachable and learn from
your mistakes as you build out a business.
I personally like the chapters that focused on human resourcing
- staffing right and also investing in the growth of your staff.
But for me also as a leader I love when Stella talked about how
she had to do a product recall because quality and integrity was
important to her.
The book to me is a mini MBA on its own and also made me
appreciate the brand Nuban Beauty more. I am continuously
routing for you and can't wait to see what's next.




Ifedayo Durosinmi-Etti Founder/CEO, Herconomy

In "Success Uncharted", Stella takes us on a journey of how her
passion for makeup led her to become a successful entrepreneur,
despite facing numerous challenges. The book tells the story of
how she recognized a gap in the market and decided to fill it by
creating her own makeup line that catered to the different skin
shades of people of African descent. She shares the struggles
she faced in the process of building her business, from sourcing
the right ingredients to finding the right manufacturers, and the
numerous rejections she faced from potential investors. However,
through perseverance and hard work, she was able to overcome
these challenges and build a successful brand that not only met
the needs of her customers but also created job opportunities for
many in her community.
"Success Uncharted" is an inspiring story of how one woman's
determination and creativity helped her to navigate uncharted
waters and achieve success in the beauty industry. Definitely
a must read for every entrepreneur in the manufacturing or
distribution industry.




Chinenye Tony-Chidolue Group Head, Organizational Development, Interswitch Limited

This was an excellent read, written with a sincerity and
vulnerability that is so refreshing with summarized takeaways at
the end of each chapter! This is a work of a true entrepreneur
written in a relatable fashion that makes you feel not alone. You
can literally see yourself in certain stages of Stella's journey and
can feel the frustrations, the sweat pain and tears as she soldiered
on. The triumph and the deliberate attempt to be true to herself,
the brand and her purpose while solving a problem in the market
is nothing short of hard core resilience and inspiration.
I am truly stoked and will read a couple more times to soak in
all the tips, tricks and valuable lessons. The main takeaway for
me is that as a woman - You can have it all, you can dare to
dream and have a fulfilled life as you learn the intricate
act of balance.
I can only say Thank You for this while I cheer you on to greater
heights! We haven't heard of the best of you yet!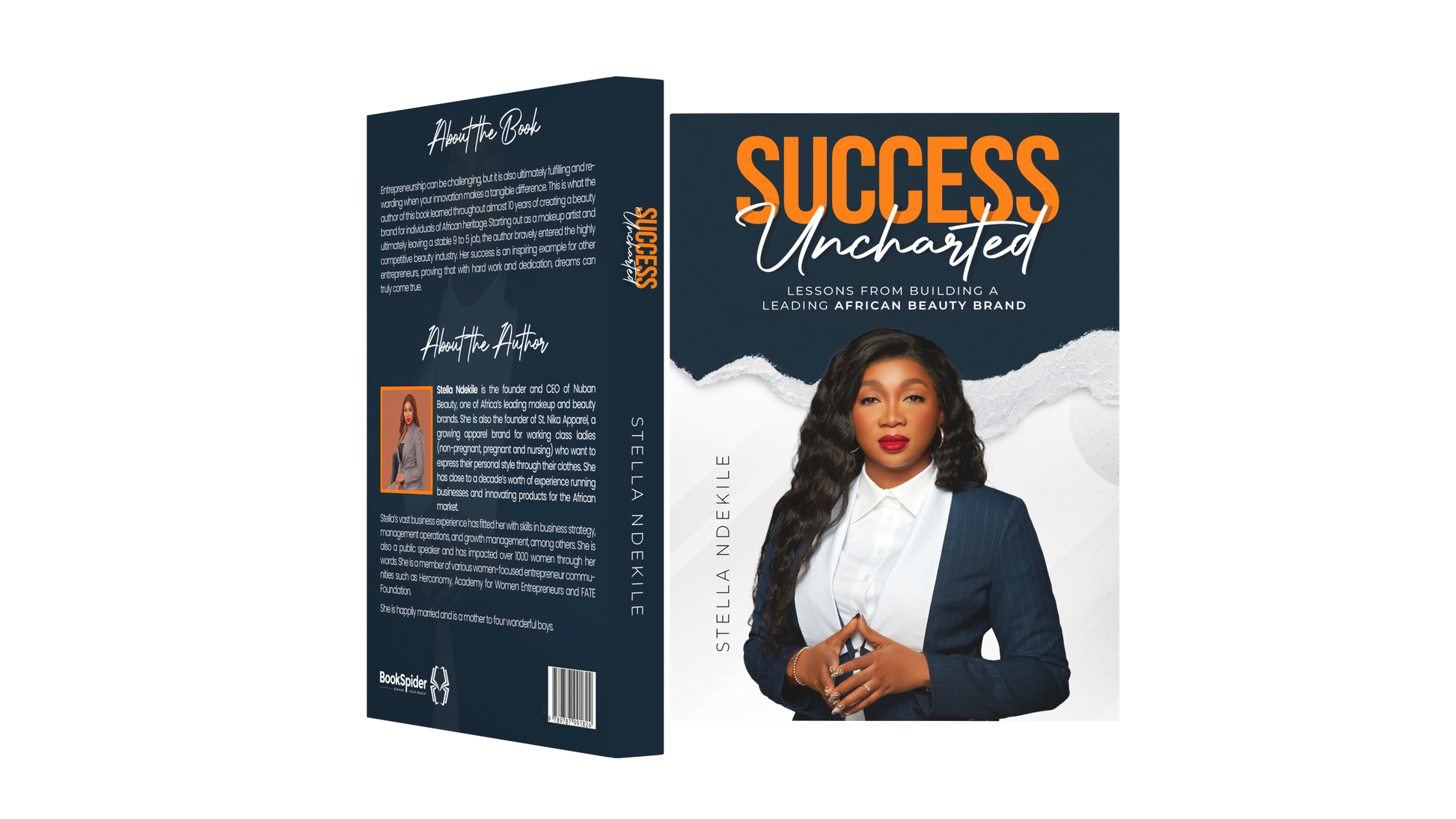 Success Uncharted [Book/Hard Copy]
Regular price
₦7,500.00 NGN
Regular price
Sale price
₦7,500.00 NGN
Unit price
per
Sale
Sold out
Share
View full details